---
The Applied Department offers GCE Applied courses in Business Studies and Information Communication and Technology (ICT) at AS and A2 level.
These courses are equivalent to AS and A2 courses but have a vocational aspect where two thirds of the courses are internally assessed and externally moderated unlike other A2 and AS courses where all the units are assessed by external examinations.
GCE Applied courses are graded the same as other AS and A2 courses.
Assumption Grammar has strived to provide and broad, balanced and coherent curriculum for Sixth Form and introduced GNVQ courses in September 1993.
These were replaced by AVCE courses in September 2000 and then Applied courses in September 2005.
Our students have had phenomenal success when they choose these courses and they are chosen as part of their AS choices for Year 13 study.
Subjects offered for Year 13 Students
---
Advanced Subsidiary GCE in Applied Business leading to
Advanced GCE in Applied Business (Year 14) Advanced Subsidiary GCE in Applied ICT - leading to - Advanced GCE in Applied ICT (Year 14).
Some information regarding the Applied Business course
---
This course has been designed to form qualifications and provide knowledge and understanding of this vocational area. They are ideal qualifications for those candidates who want a broad background in Business that will allow them to progress to further and higher education or employment.
The units studied support vocational pathways in Marketing, Financial Management, Production Management, Information and Management Systems, Human Resource Management, as well as providing an appreciation of the wider business environment.
The fundamental philosophy of these specifications is that in order to understand the nature of Business, candidates should actively experience the Business environment. This can be achieved through a varied of approaches including work experience, links with local employers, case studies and research.
Assessment of candidates' performance is via a combination of internally assessed, and externally moderated unit portfolios, and externally set and marked examinations.
Some information regarding the Applied ICT course
---
These new broad-based awards provide significantly more vocationalism to current AVCEs and are designed to provide vocational alternatives to AS, GCE, GCE ICT, AS GCE and GCE Computing. Using work-related contexts, innovative teaching and assessment methods, these new awards offer a broad introduction to this vocational area. These awards are designed to provide a progession route to higher education and further training for employment.
APPLIED courses are suitable for all students whether they have studied GCSE Business studies and/or GCSE ICT or not. A bonus for students completing AS in Applied ICT is that they automatically qualify for Key Skill Level 3 in ICT by proxy, which carries with it 20 UCAS points.
Classes are held in computer suites with all the latest software applications available to all students.
Another bonus for parents is that home computers are not required as homework is text book orientated and class time allows for practical work.
If students wish to become independent learners and take control of their sixth year studies this is the course for them.
October 2011 - Applied Business students meet Jedi Jim!
---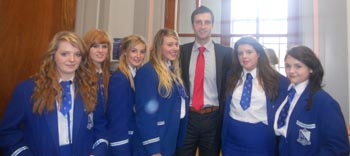 As part of their A2 Applied Business Studies course the Year 14 Applied Business class are taking part this year in the Young Enterprise Company Programme. On Thursday 6th October they attended a Young Enterprise workshop in Stranmillis College, Belfast to launch this year's programme.
During the day the girls participated in different workshops relating to various business functions but the highlight of the day for the girls was meeting Jim Eastwood who made it all the way to the final of 'The Apprentice'.
Jim gave an inspiring talk about his life from his schooldays to taking part in 'The Apprentice'. He said that three things were extremely important to him – family, education and sport. He has a first class degree and a MBA and plays many different sports. He told his audience that as regards sport 'it's never too late to take up a sport just go and do it!' Next he talked us through the application process for 'The Apprentice' with its entertaining antidotes. He gave us an insight into the show by revealing that he always took an empty suitcase with him into the Boardroom as being 'Fired!' was never an option for him.
He ended his talk with 'Tips for Success':
Be yourself!
Believe in yourself!
Be positive and persistent!
Focus on what you want!
Make the best out of every situation!
If you fake it, you won't make it!