---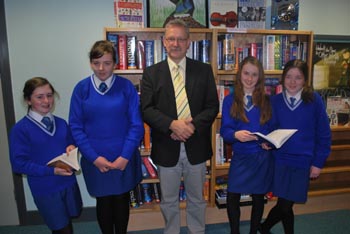 Head of Department
Latin is studied by all year 8 students at Assumption Grammar using the Cambridge Latin Course which introduces pupils to the trials and tribulations of a Pompeian family. It also develops skills in manipulating the language and introduces pupils to the social, economic and political life of a flourishing town in the first century AD. At all times pupils are encouraged to appreciate the extent to which Latin language and culture influences modern languages and society.
The school's motto ex sola virtute honor – it is from excellence alone comes distinction- encapsulates the values which the department holds dearly
The web site Cambridge School Classics Project is very useful adjunct to our daily teaching. The pupils are always encouraged to conduct individual research and make presentations to their peers on a range of subjects. The school's excellent ICT facilities are frequently used. Sharing good practice with other departments is a feature of our teaching.
At the end of the first year Latin is offered as an option with other languages. A substantial majority continues with their study of Latin. A similar choice is made at the end of year 9 and again most girls continue with the subject which gives a good grounding for GCSE.
The department also encourages a fast track approach to GCSE. The girls pictured to the left completed their exams in June 2013 with 100% grades A-B. The Latin Department is delighted with these excellent results.
We follow the OCR GCSE specification
---
Paper 1
Unseen translation and comprehension
Paper 2
Prose Literature: Selections from Pliny, Suetonius and Livy in year 11
Selections from Cicero and Tacitus in year 12
Paper 3
Verse Literature: Selections from Horace, Lucan, Persius and Virgil in year 11
Selections from Virgil in year 12
Paper 4
More difficult Unseen translation
Last years GCSE results were most encouraging with all students obtaining 100 % A-B.
AS and A2 Latin is also offered. Again we study the OCR specification.
Former pupils have gone on to enjoy success in a variety of careers such as accountancy, computer science, retail management ,personnel management , teaching medicine , dentistry and law.
The department is very well equipped with textbooks and resources and actively promotes the use of ICT as part of our teaching strategy.