---
Staff:
Miss S Ivery (Head of Department)
Mrs F Kane
Dr B Henry
Dr P Walsh
Department background:

Geography is a very popular subject in the Junior School and at GCSE, AS and A2 level.The department is justly proud of the grades achieved at GCSE and A level in recentyears.The overall aims of the Geography Department are to stimulate at all levels an ability and interest in the subject and also to develop an awareness, knowledge and respect for the Environment from the local to the global scale.
To this end, we follow the Programme of Study developed by CCEA for Key Stage 3. At Key Stage 4 and AS/A2 Level we follow the CCEA GCSE and AS/A2 Level Specification.The profile of the department is heightened by "Geography Action Week" each year. In addition the department is involved in many extracurricular activities including the A Level lecture programme at Queen's University, the Send my Sister to School Campaign,and the annual Fair Trade Workshops.
Departmental Examination Results
2014/15
GCSE A* -C
A2 -C
95.1%
90.5%
100%
Fieldwork
A major element of Geography studies at Assumption is to give students the opportunity to conduct investigations into a wide range of topics and issues. An investigative approach is encouraged as an integral part of class work as well as fieldwork. All year groups participate in fieldwork exercises. Compulsory expeditions take place at AS, A2 and at GCSE.
At AS level, students carry out a biogeographically study of Murlough Sand Dune ecosystem near Newcastle and at A2 level, a fieldwork expedition to the Titanic Quarter in Belfast deals with the topic of sustainable settlements. GCSE students carry out a fieldwork study for Controlled Assessment; this year our students investigated the River Shimna in the Mourne Mountains. In the Junior school, fieldwork exercises include a microclimate study of Assumption Grammar school and an enquiry into the Lough Neagh Ecosystem.



Travel:
Travel is a key feature in the department and since our Millennium visit to Niagara Falls and Toronto in 2001 we have organised a number of educational visits.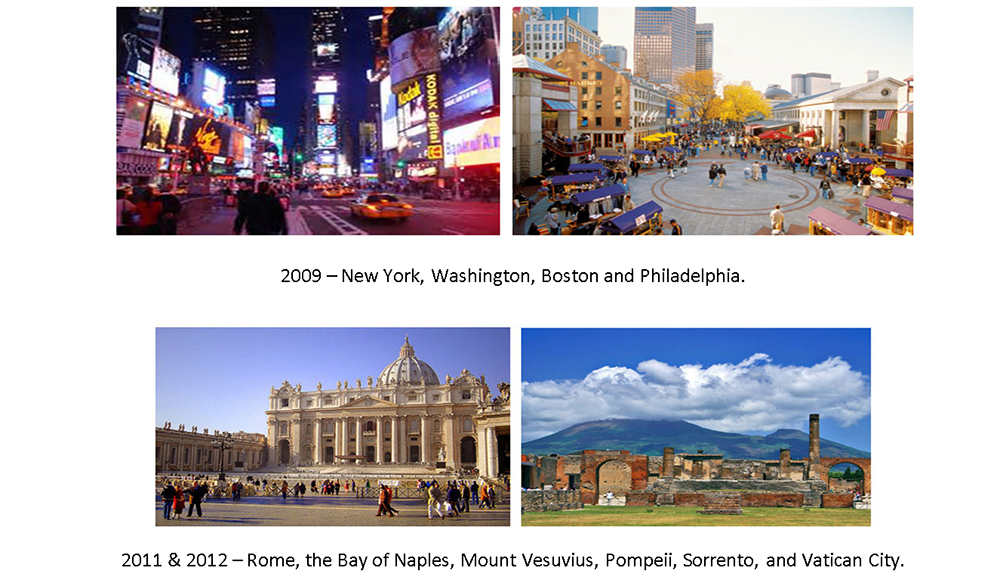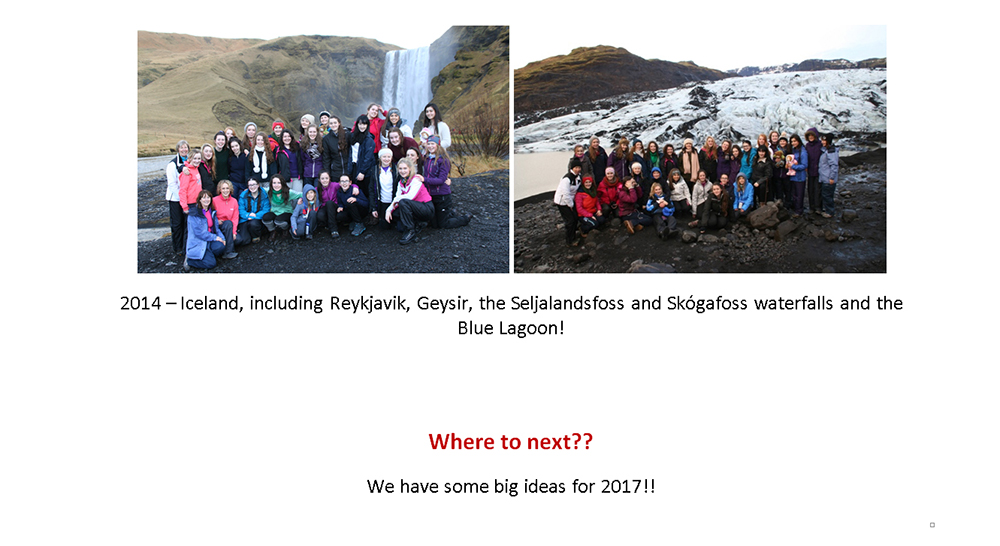 Below are some useful websites for students studying Geography.
http://www.georesources.co.uk/
This website is for Geography students of all ages. It is packed with information, case studies and even virtual fieldwork excursions!
This is the UK's geographical association website. It contains lots of good articles, information and advice on choosing geography as a GCSE and A level subject and it tells you how geography can help you in future careers.
This is the home of the royal geographical society. Again they have information on geography as an option choice. They have maps and up to date geography in the news information.
This is a useful website as it has some general geography information and then it is broken down into a section for each year group with different topics for each group.

https://www.cia.gov/library/publications/the-world-factbook/
This website has fact files on every country in the world. It includes maps, flag and facts about the social, economic and environmental factors of each country.
Useful for information when studying weather and climate.

http://www.bbc.co.uk/education/subjects/zkw76sg
This is useful for both pupils at KS3 and GCSE when they are studying for assessments and exams. Just go the homepage and search for the relevant topics. There is also an excellent selection of short videos on a variety of topics.

http://www.metoffice.gov.uk/education/teens
Another useful website for weather and climate information. This includes lots of case studies that we cover in class.

http://www.oxfam.org.uk/education/resources
Lots of good information on trade and aid and real life stories.

http://mapzone.ordnancesurvey.co.uk/mapzone/index.html
This site has lots of activities to help you improve your map skills as well as interactive games.

http://geography-site.co.uk/pages/links.html
This site has lots of links to different topics.

http://www.worldatlas.com/aatlas/world.htm
This is a good site for general facts and atlas work.