---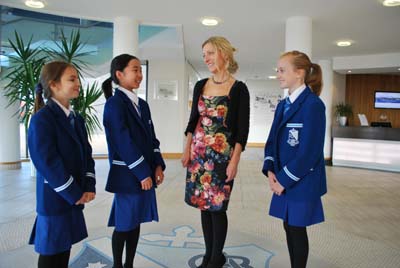 The pastoral care of our pupils is of paramount importance. It permeates every aspect of the school's life. Every member of staff shares responsibility for the moral, social and spiritual development of pupils as well as for their academic profiles. That pupils are treated as unique individuals is apparent in the good relationships and mutual respect between pupils and staff and in the close working relationships we have with parents. The school's commitment to its long held philosophy of developing the whole person was reflected in the comments of the Inspectorate in its 2015 report.
The pastoral care of the pupils is outstanding. The school's ethos is characterised by high levels of support, inclusion and a practical commitment to the welfare of pupils and staff. The school motto, 'Fully Alive', is realised through the moral, social, spiritual and academic development of the pupils.
Concern for the welfare of each pupil underpins the positive atmosphere of classrooms, the high quality of teaching and learning and the assessment and monitoring of pupils' work. The pastoral care of pupils is supported by a well-planned PSHE Programme, by an independent Counselling Service and by the specific pastoral structure of the school. The school is divided into 3 sections – Junior, Middle and Senior. The collaborative nature and structure of the school, and its resultant benefits, was also noted by the Inspectorate.
The strong sense of community throughout the school promotes successfully a culture of mutual respect and encourages pupils to look out for each other. Pupils at all stages benefit from extensive opportunities to support the less-privileged, locally and globally, through which they develop good cultural awareness and leadership skills. The school promotes very effectively healthy eating, emotional well-being and physical activity.
Leading each section is an Assistant Principal who has overall responsibility for the pastoral and academic welfare of pupils under his/her care. They are supported by their Year Heads who lead a team of four/five Form Teachers. Year Heads and Form Teachers are central to the personal and social development of each girl, providing advice, support and guidance when required. Final year students are assigned as prefects, a system which mirrors the management structure of the school. They help make pupils feel welcome and at ease and, in turn, these young adults develop a sense of leadership and responsibility.