"If a million people see my movie, I hope they see a million movies"
Staff
Mr.Tristan Barry (Teacher)
Moving Image facilities (Page still in construction)
---
Delivered by the Art & Design department, Moving Image Arts launched in Assumption in September 2016, with the first class of 12 students undertaking the new CCEA AS specification. Those students enjoyed enormous success in August 2018, boasting 4 As, 6 Bs and 2 Cs, with several attaining their highest A2 Level grade in the subject.
The subject is now well established at ASA2 level, with very capable students eager to learn new skills and begin their journey towards a career in the Creative Industries. Students work hard to develop their coursework portfolios, often supporting one another in the realisation of individual targets. The subject demands a lot of the students, pushing young people out of their comfort zones, yet the rewards gained make the journey well worth the effort! A true mark of success in the subject is reflected in the number of students who go on to continue to study Film at tertiary level. Out of the class of 2018, 8 have decided to pursue a career in the Film and TV industry. MIA offers students the opportunity to learn and develop real, applicable skills that they can apply immediately to the industry they aspire to work in.
Creative by nature, MIA is an excellent subject to study in its own right, or alongside other creative, coursework based subjects such as Art & Design, Music and Drama. As 60% of the course is coursework, 40% is based on a final, online examination to test the students on their knowledge of film theory.
Aimee Ellen McCann A2 Best Animation 2019
Joint Runner up-Shortlisted by CCEA for the Annual Showcase Awards, held in Odyssey Cinemas on November 21st 2019. "Troll toll" was selected as Joint Runner-Up out of all animated sequences submitted at A2 level , across northern Ireland. All entries were shown in full on the big screen and watched by a full house of fellow students and industry professionals, a tremendous honour! Aimee-Ellen is now studying animation at Bournemouth University and aspires to pursue a career in animation. We'll be watching her career with interest.
Moving Image ArtS
Examination Board: CCEA
This course is a great opportunity for students to acquire and develop the creative and practical skills necessary for making Moving Image Arts products. The wide variety of skills developed and employed, are ideally suited to work in the creative industries and these include leadership, enterprise, creative vision and teamwork. In Northern Ireland, the film and television industry is a rapidly growing sector, which is now providing a variety of employment opportunities for those with knowledge of the industry and applicable skills.
Whether accessed through Cinema, Television, DVD or the Internet, moving images act as a primary source of information and knowledge about the world around us. Visual literacy is now critical to understanding and interpreting contemporary society.
What kind of STUDENT is this course suitable for?
This course will suit highly creative students who:
Love watching films and are interested in how and why they are made.

Have always wanted to make their own film.

Are interested in a career in the media, theatre, television and film production.

Have studied any of the following subjects at GCSE – Art and Design, Drama, Music, English Literature, ICT.
Moving Image Arts has a high level of technical requirements and numbers are restricted. Pupils may be selected based on a rank order. Consequently, students must have:
achieved a grade B or higher in GCSE English Language or;

achieved a grade C in English Language and a grade B or higher in GCSE Art and Design, Drama, ICT or Music.
What do I need to know or be able to do before taking this COURSE?
You are not required to possess prior knowledge of or a certain level of attainment in the subject, but are expected to have a keen interest in the film and TV industry.
Qualities / skills needed to succeed in the course
T

he online examinations for both AS and A2 courses require students to demonstrate basic keyboarding and word processing skills.

Students must be highly creative and observant. They must have an eye for fine detail and be able to write fluently about their own work and the work of other filmmakers.

It is essential that students who choose this subject are disciplined when it comes to meeting deadlines as film editing is time consuming by nature.

Previous technical knowledge is not essential but students must be interested in the technology involved and willing to experiment with it and research software and methods.
WHAT DO YOU STUDY IN MOVING IMAGE ARTS?
The course is divided into four units: two units at AS level and two units at A2.
Whilst celebrating the success of all our students, we do aim for high results as may be seen in the following table which outlines our external examination results for June 2012. Four of our G.C.S.E. students gained full marks in the examinations in June 2012. In addition, the work of Year 14 student Alanna McQuaid has been requested by C.C.E.A. (Northern Ireland Council for the Curriculum, Examinations and Assessment) for their very prestigious 'True Colours' exhibition.
The 'True Colours' exhibition showcases the very best work seen in Northern Ireland in the June 2012 examination entries. The exhibition takes place in January 2013 and is viewed by pupils and teaching staff, as well as the general public, from all over Northern Ireland.

The Art Department results for the last three years are featured in the tables below. All grades at all levels fall between grades A* and C with the majority of students achieving grades A* to B. In the June 2013 GCSE three students achieved full marks and in 2012 six students were also awarded 100 percent.
The History of Art grades are also excellent with all students achieving grades A to C and the majority gaining grades A to B. Our results at all levels are higher than the Northern Ireland average.
GCSE Results for Year 12 Students 2016 - Art & Design

GRADE
2014
2015
2016
A*
1
0
6
A
17
5
5
B
4
9
6
C
1
2
0
D
E
U
TOTAL NUMBER ENTERED
23
16
17
AS LEVEL Results for Year 13 Students 2016 - Art & Design

GRADE
2014
2015
2016
A
2
3
1
B
1
4
1
C
2
1
5
D
E
U
TOTAL NUMBER ENTERED
5
8
7
A2 LEVEL Results for Year 14 Students 2016 - Art & Design

GRADE
2014
2015
2016
A*
0
0
1
A
2
0
4
B
2
3
2
C
3
1
0
D
E
U
TOTAL NUMBER ENTERED
7
4
7
Seacourt printmaking workshops
---
The Art department has several workshops in place bringing local artists from the community into the school demonstrating to the students of all ages some of their niche and specialist skills which will enable them to develop and enhance their creative abilities so as they can pursue a career in the Arts and prepare them for continuing on to higher education whether it be University or alike.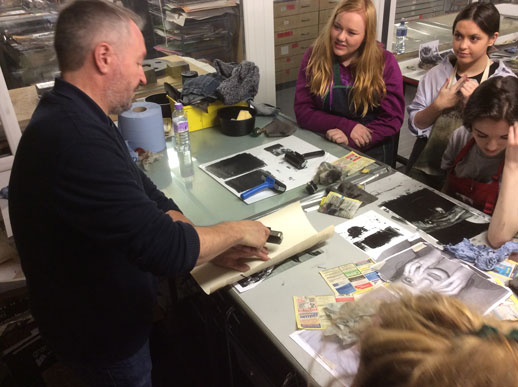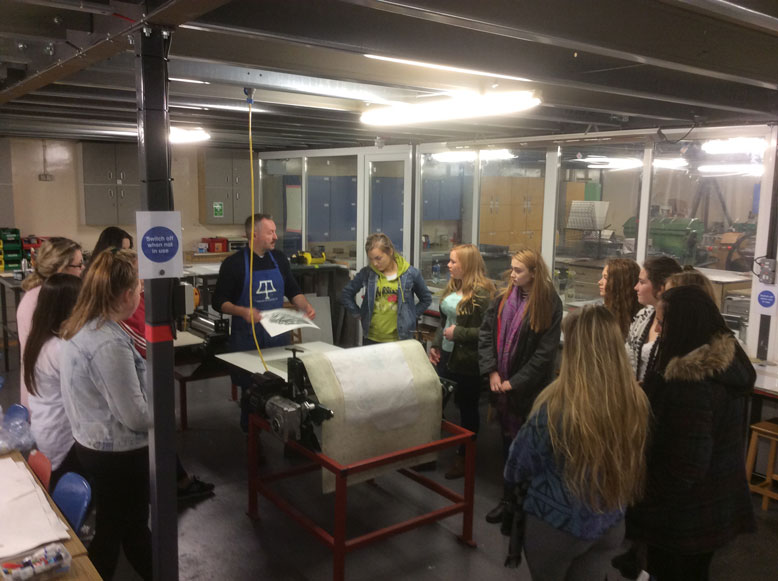 Some photos of the A/S and and A-level students on our day trip to Seacourt Printmaking workshop learning Drypoint and etching techniques under the guidance of professional artists and tutors.
Printmaking Workshops in school
---
We also have printmaking workshops within the school where we practise linocut and etching techniques where we show our students how to produce work in this fantastic medium. The students have full access to a printing press and other facilities so our school stands ahead of others working with traditional printmaking techniques and is invaluable for those who wish to continue onwards to Art College to become a full practising printmaking Artist.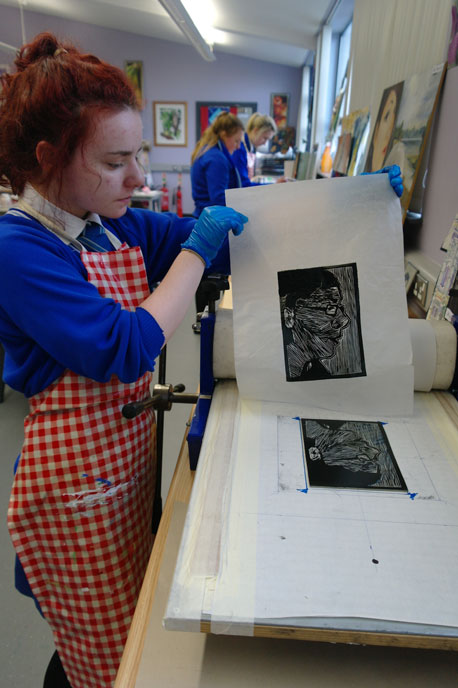 Assumption Art student using the printing press producing a limited edition print in lino.
Art Club
---
We have several artists who come into our school throughout the year to take part in "Art Club" which take place every Tuesday. We choose an artist that specialises in a certain medium whether it be ceramics, painting, textiles, printmaking etc and we ask them over a series of weeks to demonstrate to our students the skills and process of their particular craft and talk about the business and process of how to make a living as an artist.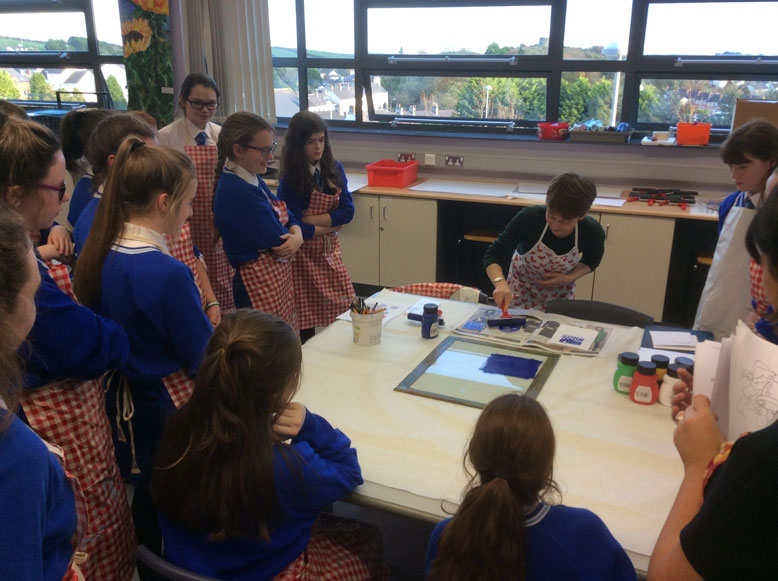 Local artist "Lisa Murray" demonstrating to some of the students printmaking techniques and its process.